Pain Free Santa Fe is a non-medical pain therapy studio in Santa Fe, NM. We are Egoscue University certified posture alignment and exercise therapy specialsts serving Santa Fe, Albuquerque, and Taos, and we serve other locales via Skype or Face Time.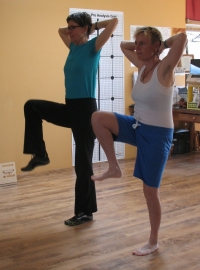 Egoscue University certified Posture Alignment Therapy is an effective movement-based method of assessing and changing posture so that the body can be free of pain and full of energy. No pills, no surgery, no manipulation are used. Posture alignment therapy gets results for thousands of people.
We specialize in helping individuals to understand that the source of their pain is usually not the site of their pain, and is usually based in postural mis-alignments. Then we customize a series of exercise programs to resolve the pain and guide the person through it so they can get back to doing what they love.
Posture therapists at Pain Free Santa Fe are certified by Egoscue University.